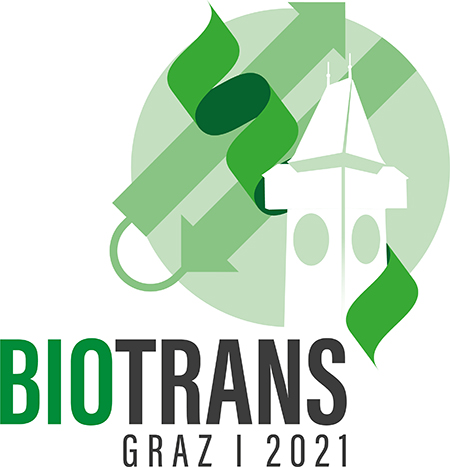 WE WELCOME YOU ON-SITE OR ONLINE TO GRAZ!
Due to organizational risks in times of Covid19 especially associated with a big conference site, the location of the 15th International Symposium on Biocatalysis and Biotransformations (Biotrans 2021) was moved from La Rochelle, France to the University of Graz, Austria. Also, as a consequence of Covid19, Biotrans 2021 will be a hybrid meeting allowing to participate on-site or online. The size of the lecture hall will limit the number of participants on-site to about 400 at maximum. Nevertheless, the conference will offer poster sessions allowing registered online and on-site participants to present their work in the form of online-posters and as video including live-discussions. As usual, there will be lectures (keynote and invited by world leading experts, as well as oral communications selected from abstracts) and pitch talks which all will be streamed and recorded to allow registered participants to (re)watch the talks also later within a certain time frame. The talks will be preferentially given live in the lecture hall but selected talks may also be given by people online and streamed into the lecture hall. Especially due to the online format, I hope to reach and include also many more colleagues than usual from all over the world and to share the most front running research in biocatalysis.
It is indeed a great honour and pleasure for me and my team to invite you to participate in this symposium in this exciting new format. It would be great to have more than 700 participants in total attending, e.g., 400 on-site and more than 300 online. In the hopefully unlikely case of international travel restrictions, the meeting will be virtual only.
The Biotrans 2021 symposium provides the unique chance to bring the recent advances in biocatalysis research to every location in the world (as long as there is internet) and at the same time also to enable a meeting in person at the conference site as well as online. I expect an exciting program covering new reactions, design of enzymes, understanding enzyme mechanisms, demonstrations of applications, computational methods, (chemo)enzymatic cascades and inspiration from biosynthesis as well as chemo-inspired reactions. Speakers will be announced asap.
The contributions will come from experimentalists as well as theoreticians, from both academia and industry. Due to the interdisciplinary nature of the topic, we will welcome high-quality abstracts from any area related to the topic of the symposium, including synthetic and evolutionary biology, genetics, reaction engineering, biomolecular engineering, protein biochemistry, computational chemistry and synthetic (bio)organic chemistry.
It is also a pleasure to host the Biotrans meeting again in Graz, 28 years after the very first Biotrans, which was held in 1993 in Graz initiated and chaired by Herfried Griengl/Walter Steiner and co-organized with Kurt Faber.
We look forward to welcoming you to Biotrans 2021 – on-site or online.

Wolfgang Kroutil
(chair of Biotrans 2021) and his team
Did you already know that Biotrans 2021 is accompanied by a podcast? It's called "In The Active Site", and in the first episode Wolfgang Kroutil speaks about his scientific background and organising Biotrans 2021.